Evander "Vandy" French, Jr., age 78, a lifelong resident of Winchester, passed away on March 6, 2021 due to complications following a stroke. He was the beloved husband for 55 years of Leslie (Sanger) French, and loving father of Van French (wife Birgit) of Boston, Christopher French of Winchester, and the late Peter French.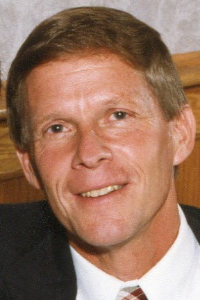 Born and raised in Winchester, he was the son of the late Evander and Frances (Hoxie) French. He graduated from Winchester High School in 1960 and Tufts in 1964. He continued his education with a Masters in Teaching from Harvard and an advanced degree from B.U.
A gifted athlete, Vandy was a member of the 1955 Winchester baseball team that advanced to the Little League World Series, where he tied a LLWS pitching record for most strikeouts in a game that stood for many years. He was a star in basketball and baseball at Winchester High School, and continued to be a 2-sport athlete at Tufts, where he captained both the basketball and baseball teams his senior year. He earned the prestigious Bob Cousy Award along with being named the Tufts Athlete of the Year in 1964. After college, he became an avid tennis player, enjoying the camaraderie and competitiveness of his new sport. In 1994, he was inducted into the Winchester Sports Hall of Fame for all his accomplishments.
He was a dedicated and passionate educator in Winchester for 43 years. He began his career as a Social Studies teacher before becoming Assistant Principal at Winchester High School in 1975. Nine years later he was hired as Principal of McCall Middle School where he proudly served for 26 years, retiring in 2010. He ardently believed that "kids don't care how much you know, until they know how much you care". As a reflection of this, upon his retirement the Evander French, Jr. Humanitarian Award was established in his honor, given annually to 2 worthy McCall students who improved and enriched the lives of others.
During that period he also impacted many young people outside of school as a talented and inspiring coach. He was the Winchester High School basketball coach for 7 years, culminating in the school's last Middlesex League championship in 1974. He was later thrilled to coach all of his sons in basketball and soccer throughout their youth, winning many championships but more importantly guiding and shaping the lives of hundreds of young athletes.
Devoted to Winchester throughout his life, Vandy's community activities included Life Deacon and active member of First Congregational Church, President of ABC, Trustee and Corporator of Winchester Savings Bank, President of Winchester Youth Basketball Association, Corporator of Winchester Hospital, Boys' Commissioner of Winchester Soccer Club, and President of WinCam.
Vandy was a hard worker – a "take charge" kind of guy. He loved going to work every day, and was so proud of McCall Middle School, its teachers and students. He was known for his warmth, integrity, loyalty, and compassion, as well as his resilience and fierce competitive nature. He led by example and hoped to pass along his values of excellence, respect, and equity. His deep passion for all Boston sports teams was surpassed only by his abiding love for his family.
In addition to his wife and children, Vandy is lovingly survived by his sister Deborah Parker of Stamford, CT, his sister-in-law Margery Miklus of Chatham, MA, and 7 nieces and nephews. He was predeceased by his sister Judith French. Relatives and friends are kindly invited to visit briefly at Costello Funeral Home, 177 Washington St., Winchester, on Thursday, March 11 from 3-7 PM and are asked to enter through the front door, wear masks, and practice social distancing. Burial Service is private. A Memorial Service will be held later this year. In lieu of flowers, donations in his memory may be made to the Peter French Memorial Foundation, Winchester Savings Bank, Attn: Tina Mesiti, 661 Main St., Winchester, MA 01890.