Everett Whitney Gray was the supervisor at the courts when I came to town in 1974. He was in charge of allocating court time, which at that time was a considerable challenge. There was no internet or cell phones, so most people just showed up at the courts late in the afternoon or Saturday or Sunday morning. You would try to find an opponent or a group to play in. Whit would match people up, and if there were too many waiting, would merge singles players into a doubles group. Not knowing anyone in town, I thought it was fantastic, because you almost always got to play. Whit was famous for his "thumb test" which he did whenever it had rained. If he could push his thumb down on court #5, then they were not ready for play.. I remember going down there and a huge crowd of players would be waiting for Whit to show up and do his thumb test.. I always thought Whit invented the test, but I heard it discussed at the French Open one time by one of the commentators. The drinking fountain next to court #1 was dedicated to Whit by his many friends.
Here is a tribute from Whit's daughter Cindy Pidacks who learned the game from Whit.
My Dad, Whit Gray, was a simple man and lived a simple life. He grew
up in Lowell, MA, went to Colby College and Harvard Business School.
Dad married my mom in 1939, moved to Winchester and built their
house on Kenwin Road. He mowed our lawn with a push lawnmower,
shoveled the driveway, repaired our cars if he could, painted our house,
shingled the roof, and painted other houses in town. He always worked
more than one job. He would take the train to Boston and walk from
North Station to his office, never taking the subway. He was elected a
town meeting member for 30 years. He loved Winchester and he loved
the Winchester Tennis Courts. His passion was tennis and badminton.
He started playing tennis at the age of 7 and never had a lesson. He
took pride in the tennis courts. He made sure you were not an out-of-
towner trying to play on HIS Winchester courts. He had been playing
doubles with a friend for many years before he found out that he lived
in Medford. He made sure you were wearing proper tennis attire, did
not lean on the net, and that proper tennis etiquette was observed at
all times. He sold tennis balls out of the trunk of his car and would bring
home rackets to put new grips on them. Our ping pong table in the
basement was not used for playing ping pong. It was used to repair
rackets. There was not an inch that was not covered in tennis
equipment. Dad was honest, competitive and was respected in town.
He worked 7 days a week, never taking a vacation except once a year
when he went to Squirrel Island in Maine for the weekend for the
annual fall outing with Bobby Horne, Brad Hersey, Adolph Alla, Deb
Bellows, and Ed Williams. They played tennis and ate lobster. I
remember Parker and I went with Dad a few times to Squirrel Island
and what a grand time we all had. My Dad never travelled outside of
New England and didn't want to. He was content playing tennis and
playing badminton in the winter. He tried to teach me to play tennis, oh
well, but Parker was the one with the tennis genes. They won many
father and son tournaments. Dad with his unorthodox right-handed
serve and Parker with his two-handed back hand. They won so many
tournaments together they knew when it was time to stop to let
someone else win. Parker loved tennis, but when he hurt his shoulder,
golf became his game. Parker always wanted to live by the ocean and
his dream came true when he moved to the Cape to spend his
retirement fishing, golfing, clamming, and relaxing on the beach.
Dad was honored when a husband and wife tournament was named
after him – The Whit Gray Bowl. With all that Dad did you would think
he didn't have time for us, but he did. He would never miss a concert of
mine at school. He had time to help me with my homework. He taught
me how to drive a stick shift. After I graduated from college and worked
in Boston, we would drive to work together. I would drop him off at
Lechmere and he would walk to his office. I would pick him up on the
way home. I remember the wonderful conversations we had. I
cherished those times with my Dad. I miss Dad and Parker and I'm sure
they are playing tennis together again. Sometimes I think I can still hear
Dad saying "hit the ball Gray".
I remember the day after my Dad passed it snowed during the night. Early the next morning my Mom heard someone shoveling the driveway. It was Don Ellis.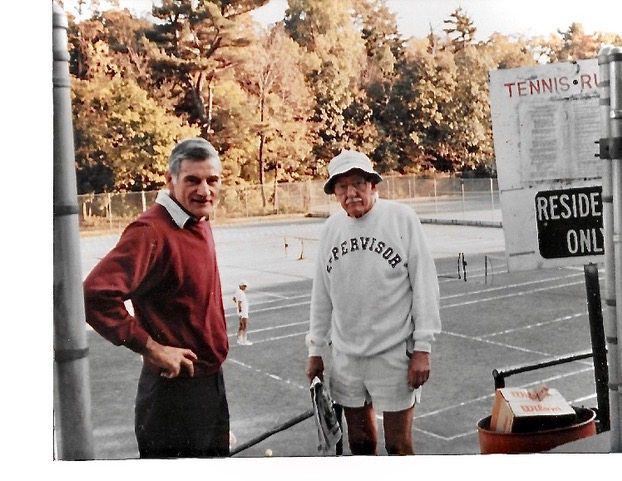 Donnie Ellis and Whit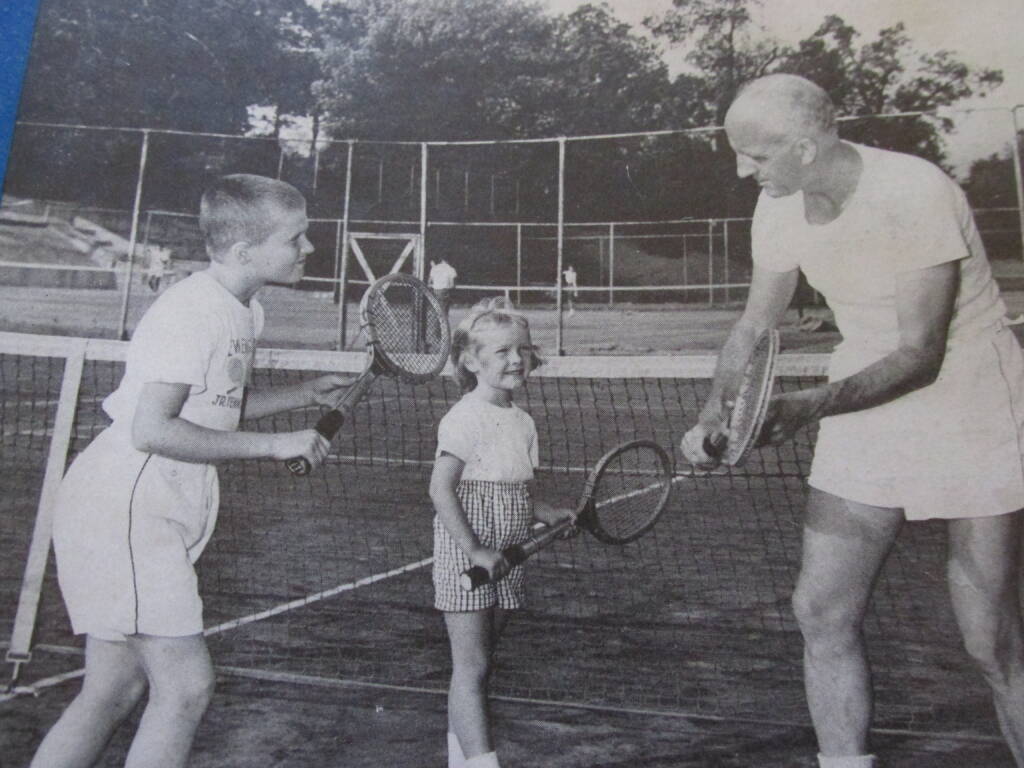 Whit teaching Parker and Cindy the backhand